Customer Reviews
Write a Review
Ask a Question
04/13/2021
Anonymous

United States
Awesome
The minute you walk into my room the scent just calms you down. The best scented candle ever.
03/13/2021
Amy L.

United States
The best scent I have ever encountered in my 59 years
The besti walk In to my bedroom and if its lit or not the scent is so relaxing and beautifully scented I definitely will 2ant more of that scent. We don't have it here in north Dakota and I happened to find a smaller one at a thrift store and fell in love immediatly.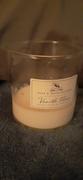 03/12/2021
Anonymous

United States
Exceeded expectations !
Beautiful clean packaging and wonderful light scent ! Highly recommend !
02/16/2021
Karen F.

United States
Vanilla flour large soy candle.
Great packaging!! The smell is amazing even after you blow it out. Gave one to my friend and she says as soon as she walks in the room( even unlit) it gives you a calming fresh aroma!! Will def order more!!
02/09/2021
Anonymous

United States
Beautiful candles, wick issues
Lovely presentation. Clean, simple and elegant. Soft and soothing aroma. My one problem with these candles is that the wick doesn't allow you to burn the entire candle. It stops with about 1/2 inch left of wax. After repeated attempts to relight, I realized the way it's made simply won't allow it. Unfortunately I have thrown away 3 candles I felt should have had more burn time.
02/09/2021
Soap & Paper Factory
Oh no! This is so unusual, Im wondering if you are trimming wicks between lightings? It could be there is carbon build up? Would you email me at Lisa@soapandpaperfactory.com, I can get more info and we will figure it out! Thanks!