Customer Reviews
Write a Review
Ask a Question
05/24/2021
Lele M.

United States
Fantastic product and customer service
Excellent! Will definitely order again and love the scent of the Vanilla Fleur
04/13/2021
Anonymous

United States
Awesome
The minute you walk into my room the scent just calms you down. The best scented candle ever.
03/13/2021
Amy L.

United States
The best scent I have ever encountered in my 59 years
The besti walk In to my bedroom and if its lit or not the scent is so relaxing and beautifully scented I definitely will 2ant more of that scent. We don't have it here in north Dakota and I happened to find a smaller one at a thrift store and fell in love immediatly.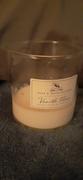 03/12/2021
Anonymous

United States
Exceeded expectations !
Beautiful clean packaging and wonderful light scent ! Highly recommend !
02/16/2021
Karen F.

United States
Vanilla flour large soy candle.
Great packaging!! The smell is amazing even after you blow it out. Gave one to my friend and she says as soon as she walks in the room( even unlit) it gives you a calming fresh aroma!! Will def order more!!