Customer Reviews
Write a Review
Ask a Question
My S&PF favorite
The scent and lather of this soap make it my favorite soap in the product line. I've been using it for years and still get excited every time a new supply arrives! What do they put in that scent?? I'm addicted to it. And the paper it's wrapped in is so beautiful, I want to save it but can't think what I would with it. Imagine wrapping paper! Years ago, S & PF sold note cards that were fabulous designs and completely unique. I SO wish they would offer them again.
02/17/2022
Anonymous

United States
Perfect
Excellent!! My faves are Roland Pine Soap, Home Fragrance Spray & the Diffuser!!! Hoping for a liquid body wash!! Fresh clean fragrance-not overwhelming!!
02/14/2022
Anonymous

United States
My favorite soap!
Wonderful soap. The smell takes me so many of my favorite outdoor places, and it always sets up my morning! Very high quality, fragrance lasted till the very end, and it was a long-lasting soap. Love it!
02/14/2022
Katherine D.

United States
Roland pine shea butter soap
Fabulous, feels like silk with subtle pine scent. My second order… I love sharing with friends !!!
12/01/2021
williams c.

United States
Old soap??
POOR! Off white in color I am thinking that I got "old stock" very old! Almost no scent to it at all! I also bought another brand and the soap is snow white and lots of lather! I used it anyway hoping as it got smaller it might smell better or at least change color,BUT it was nasty yellowish all the way not so much lather either! I AM disappointed If it didn't cost so much I would have returned it! Have not opened the other bar. This looks like my first and last experience with your company,I would have liked to have tried some FRESH stock,but I know the old goes out first ,I just didn't expect it to be this old.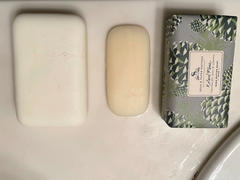 12/01/2021
Soap & Paper Factory
Dear Chris, So sorry to hear of your terrible experience. First let me say that we don't have "old stock". The reason our soap is "off white" is because we don't use chemicals to bleach it white. Our soap is naturally colored, and with time, will change color, a perfectly natural process. Our soap is very lathery, we pride ourselves on making the best possible products on earth, so we are so saddened to hear you did not have a great experience. Would you email me at Lisa@soapandpaperfactory.com and we can figure out a solution? Wishing you the best! Lisa & Shannon